Join us on Zoom for a coffee (or wine) and a chat about all things Green literature.
Thank you to the women who joined us for the lively discussion on our last book.
Our September 30th session will discuss 'Why I am no Longer Talking to White People About Race' by Reni Eddo-Lodge. We chose this book because it was recommended  to GPW by 2 of the leadership candidates.
There is no obligation to read the book beforehand (hey, it's a social & discussion group, so please feel free to join us even if you have not done your homework!).
The sessions are on every last Wednesday of the month. After registering, you will receive a confirmation email containing information about joining the meeting.
We welcome suggestions for books, so please let us know which books you want to read.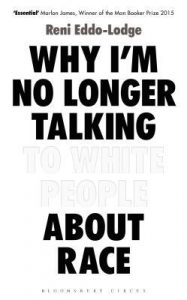 In 2014, award-winning journalist Reni Eddo-Lodge wrote about her frustration with the way that discussions of race and racism in Britain were being led by those who weren't affected by it. She posted a piece on her blog, entitled: 'Why I'm No Longer Talking to White People About Race' that led to this book.
Exploring issues from eradicated black history to the political purpose of white dominance, whitewashed feminism to the inextricable link between class and race, Reni Eddo-Lodge offers a timely and essential new framework for how to see, acknowledge and counter racism. It is a searing, illuminating, absolutely necessary exploration of what it is to be a person of colour in Britain today.
The book can be bought for around £7.00 - £9.00 from a range of outlets, or you may be able to borrow it from the library. It is also available on Audible (at the moment audible has an offer to listen for free for 30 days for new customers).