Green Party Women Committee 2022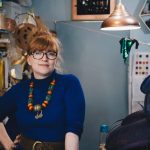 Ani Stafford-Townsend
Co-chair
I am a councillor in Bristol and am co-shadow Cabinet Member for Culture, Communities, Equalities and Public Health.

Julia Lagoutte & Alex Geddis (job-share)
Secretary
Julia:  Hello! I'm 30 and based in Bristol. I've been involved in the party for about 10 years - supporting general election candidates, running social media accounts, working for an MEP, and now sitting on the Green Party's Executive Committee.
Alex:   Mother, grandmother and now retired teacher and teaching consultant.  Long term member of GPEW and an active member within my local Bristol Green Party:
Secretary for three years
Member of Action on Climate Emergency Group
Currently in a shared role as Equality and Diversity Officer
Committed campaigner for women and girls all my adult life.
In addition to providing secretarial support to the GPW Committee, I hope to be part of an effective Committee providing support for Green Party women through informative workshops, panels and social events.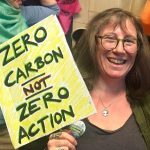 Elise Benjamin
Membership Secretary
Founder member of Green Party Women, AGC, GPTU, and Green Left.
City Councillor (15 years, including Lord Mayor) until 2016.
Active in the party for 33 years, holding many roles locally and nationally.
Currently Comms Officer for Jewish Greens, a member of the Equalities and Diversity Committee, and a member of local party elections committee.
Represented the party at public meetings, spoken at many demonstrations, and run member canvassing training.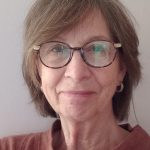 A longstanding member of GPEW, I have served on the Executive and Regional Council. I am an active member of my local party - Lincoln.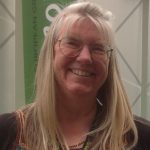 Mandy Vere
Non-portfolio Officer
I am a retired radical bookseller, mum and nana, and a lifelong campaigner for women, within peace movements, LGB organisations, international solidarity movements and the literary community.  I always prioritise women as a sex, whilst supporting other liberation movements, and am passionate about class, race, disability and environmental justice.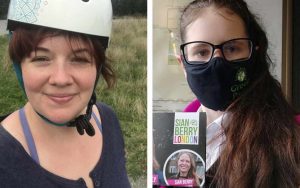 Meg Shepherd-Foster & Natalia KUBICA (job-share)
Non-portfolio Officer
Meg is a home educating mum of three who has worked as a teacher and sports coach in deprived areas of England and Wales. Breaking down barriers and intersectional feminism are the two areas that she is most interested in, as well as helping more people get involved in politics.
Natalia is an experienced political campaigner and organiser, particularly around climate justice. Since joining the Party 2 years ago, she has been active in her local party and started a Green Party society at her university, which she is currently Acting Chair of. A lifelong proud feminist, Natalia is also on the Young Green Women committee.
As a Non-Portfolio Officer, Meg and Natalia would work to support and empower women within and outside of the Party and ensure that Green Party Women is the successful and intersectional women's group the Party needs and deserves.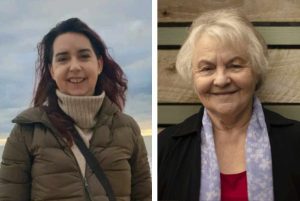 Lucy Watson & Nicole Haydock (job-share)
Candidate for Non-portfolio Officer
Lucy Watson:  Hello!  I'm from a creative background, and a single mother and lifelong disabled - passionate about creating a diverse, fair and just society that exists in harmony with nature.  I'm also on the Party's Disability Group Committee.
Nicole Haydock: A committed feminist of the first generation, active trade unionist in higher education and social housing and a single mother too, I joined the Green Party in 2009. I served as Local Party co-ordinator for 9 years and North West representative on the Green Party Regional Council for 4 years.